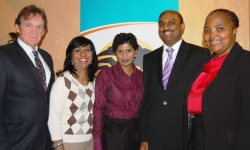 Mr Grant Adlam and Mrs Lalita-Dhasiar-Ventura, Publishers of the KZN Top Business, LULU Naidoo FNB Mr Preggie Pillay, Provincial Chairman FNB KZN; Mrs Pearl Bhengu, Head of Public Sector FNB KZN
FNB KZN Top Business Awards 2011
Durban; 18 April 2011; First National Bank and Top Business Portfolio today announced the fifth edition of The 2011 FNB KwaZulu-Natal Top Business Awards, an annual event that celebrates successful companies and organisations in KwaZulu-Natal.
The Awards that have firmly been established as the highlight of the KZN business calendar, offer an excellent opportunity for all business sectors to meet and showcase their achievements to their peers.
This year's event will be held on the 7th July 2011 at the Moses Mabhida Stadium.
"Being selected as a winner or finalist is a great achievement and a real opportunity to generate positive publicity for your business," says Lalita Dhasiar-Ventura, one of the publishers of the KwaZulu-Natal Top Business Portfolio
There are 13 categories in this year's event and they mainly focus on recognising business and organisational success across the economic sectors in both the private and public arenas.
Preggie Pillay, the FNB KZN Chairman says; "FNB is proud to be associated with the Awards that seeks to stimulate economic activity and growth in the Province. FNB works through a strategy of partnerships and we feel the collaboration between the bank and the Awards fits firmly on that strategy."
Key indicators in this year's Awards include brand; reputation; stakeholder relations; goodwill; environmental sustainability; social responsibility and quality of governance. Previous winners in their categories include: Tongaat Hulett; East Coast Radio; Durban Investment Promotion Agency (DIPA) and NCT Forestry Co-operative.
More information is available on the KwaZulu-Natal Top Business Portfolio website
www. topbusiness.co.za
or Lalita Dhasiar-Ventura