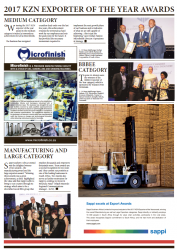 2017 KZN Exporter Of The Year Awards : Medium Category - Microfinish
2017 KZN Exporter Of The Year Awards : Medium Category - Microfinish
2017-12-07
MEDIUM CATEGORY
Winning the 2017 KZN exporter of the year award in the medium category is indeed a tremendous achievement for all at Microfinish.
The business has navigated countless dead-ends over the last few years, this achievement rewards the tremendous hard work by our employees and sets the goal posts for the future. It
has provided the necessary momentum required to implement the next growth phase of our business and is indicative
of what we are still capable of achieving - this is just the beginning," says Deshan Naidoo Microfinish Director: Operations & Strategy.
L - R: Musa Makhunga; Deshan Naidoo; and Odirile Ramasodi Marketing and Communications Officer, Export Credit Insurance Corporation of South Africa
---