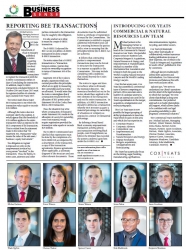 Introducing Cox Yeats Commercial & Natural Resources Law Team
Michael Jackson is the Managing Partner at Cox Yeats Attorneys and head of the Commercial & Natural Resources Law Team. His specialist practice areas are Business Law, Corporate Mergers & Acquisitions,
Natural Resources & Energy, and Empowerment & Transformation.
Michael is a member of the International Bar Association and is listed in both the guide to the World's Leading Natural Resource Lawyers and the World's Leading Energy Lawyers.
Over the last seven years, Cox Yeats has assembled a commercial team of lawyers comprising six partners, three associates and a number of candidate attorneys.
This is an optimal size unit for the Team's specialisation in the merger, acquisition, amalgamation and
restructuring space.
This Cox Yeats team is now possibly the largest grouping of skilled professionals in KwaZulu-Natal which focuses on this area and which also has expertise in:
Corporate Finance
Corporate Advisory
Competition Law
Empowerment and Transformation
Natural Resources and Energy
Dispute Resolution
Mergers, acquisitions, Amalgamations and Restructuring
The Team has a particular focus on the mining, sugar, banking, manufacturing, agribusiness, telecommunications, logistics, recycling, and timber sectors.
Cox Yeat's professionals have, either individually or collaboratively, written numerous leading publications in areas of their expertise, one of which is the "Guide to Mergers and Acquisitions in South Africa", published in 2016 by LexisNexis.
Although lawyers traditionally defend their autonomy and individualism, Cox Yeats actively promotes and balances this with team work and joint effort.
Jackson says, "We strive to understand our clients' operations and the detail of the legal landscape in which they navigate. We view client relationships as long term commitments. Our preferred approach is to build relationships and rapport, which allows clients to be confident with our legal grounding and ability to offer
pragmatic commercial solutions."
The Commercial Team members are: Michael Jackson, Managing Partner; Simon Watson, Partner; Jenna Padoa, Partner; Keren Watson, Partner; Jason Goodison, Partner; Wade Ogilvie, Associate; Cherese Thakur, Associate; Spencer Cason, Associate; Benjamin Meadows, Candidate Attorney; Xola Madikizela,
Candidate Attorney.