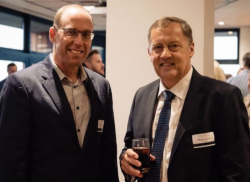 David Meadows (Tongaat Hulett) and Michael Jackson, Managing Partner - Cox Yeats, seen at the firm's client evening
Cox Yeats - An Eventful Few Months
2020-02-20
Cox Yeats Attorneys has had an eventful few months. The end of July 2019 saw the firm relocate to custom built offices on the Umhlanga Ridge, followed by a client event at the end of November 2019 to welcome clients to their new premises.
The firm then had three of its partners listed in BEST LAWYERS 2020 making it a total of seven partners listed in this prestigious journal, namely: Roger Green, Alastair Hay, Michael Posemann, Robin Westley, Andrew Clark, Michael Jackson and Richard Hoal.
At the end of 2019 the firm was informed that they had been awarded the PMR.Africa Diamond Arrow award for being the top law firm in South Africa in the medium size category.
This is the third consecutive year that the firm was recognised with this award.
The year 2020 has started off with the firm recognising and acting on the ever evolving impact of the 4th Industrial Revolution, through the establishment of the Information & Communication Technology Practice to assist clients in this area of business.
Focussing on the area of community and social upliftment, all Cox Yeats personnel and professionals started the year off making sandwiches for the firm's appointed CSI initiative; Amaoti no 3 School. This was followed by professionals attending the school's annual awards ceremony where this small school celebrated some amazing matric results with an overall 2019 matric pass rate of 97, 8%.
W:
www.coxyeats.co.za
---