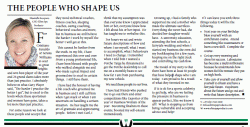 Shantelle Booysen - The People Who Shape Us
For Cristiano Renaldo or Serena Williams to soar to great heights and win best player of the year and 24 grand slams takes more than just practice. I absolutely believe in what Gary Player said, "The harder I practice the better I get", but to excel to the levels where these sportsmen and women have gone, takes a lot more than just practice.
For some reason we look at these people and accept that they need technical coaches, fitness coaches, sleeping coaches, eating coaching, behavioral coaches and more, but in business we still believe the harder I work by myself the better I will get at this.
This cannot be further from the truth. In my life, I have experienced this over and over. From a young professional life, I have been blessed with people who walked alongside me and who made a great impact and groomed me to excel in certain things. I still have them.
I have had the honour of having a life coach who groomed me in business and I still call him when I get stuck or when I am uncertain on handling a certain situation. He has taught me the art of gratitude and appreciating people. Before I met Carl, I think that my assumption was that everyone knew I appreciated him or her, everyone knew how I felt about his or her input. He has taught me to verbalise this.
For hours we sat and wrote future descriptions of how and where I see myself, what I want to accomplish, what I behaviours I need to change. I remember when I told him I wanted a Porche Targa he threatened to
get the Porche dealership to call me on a monthly basis to see how far I am from purchasing my new vehicle.
We need these people in our lives. I have had friends who pushed me to go out there and enter competitions like Exporter of the year or Business Woman of the year. Becoming finalists in these events, boosted my self-esteem tremendously.
Growing up, I had a family who supported me and a mother who made the ultimate sacrifices. Everything she never had, she decided her daughter would have. A university education, attending the best schools, a
fairytale wedding and when I started my business she even did my bookkeeping for a few years, keeping me on the right track and controlling my cash flow.
The model of my story is that there have been at least 50 people that have helped shape who I am today. I am proud to be a result of what they invested in me.
If it is ok for a sports celebrity to get help, why are we feeling the pressure in business to appear perfect, like we know it all? What is stopping us from being vulnerable and accepting advice and help?
If I can leave you with three things today it will be the following.
Next year on your birthday bless yourself with an enrichment course. Attend something like toastmasters or learn a new skill. Complete the course.
Get up every morning and dress for success. Laboutaine has become a multi millionaire because he understands how women feel the minute they put on high heels.
Take care of yourself and allow yourself to dream and have a fairytale future. Daydream about the future and go out and write that future description.
T: +27 (0)21 553 2309
E:
info@elimspaproducts.com
W:
www.elimspaproducts.com