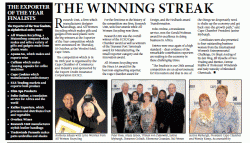 The Winning Streak
The Winning Streak
2018-11-27
Research Unit, a firm which manufactures designer handbags, and All Women Recycling which makes gifts and gadgets from used plastic were the big winners at the Exporter of the Year competition which
were announced on Thursday, 18 October, at the Westin Hotel, Cape Town.

The competition which is in its 28th year is organised by the Cape Chamber of Commerce and Industry and sponsored by the Export Credit Insurance Corporation (ECIC).

For the first time in the history of the competition one firm, Research Unit, won four awards while All Women Recycling won three. Research Unit was the overall winner of the ECIC/Cape Chamber award as well as winners of the Transnet Port Terminals award for Manufacturing, the Small Exporter category and the Innovation award.

All Women Recycling won the Finex SA award for the best non-engineering exporter, the Cape Chamber award for Design, and the Nedbank award Transformation.

Folio Online, a translation service, won the Gerald Wolman award for excellence in doing business in Africa.

Entries were once again of a high standard â€" clear evidence of the remarkable contribution exporters are making to the economy in these challenging times.

"The finalists in our 28th annual competition are an advertisement for innovation and that is one of the things we desperately need to shake up the economy and get back onto the growth path," said Cape Chamber President Janine Myburgh.

Certificates were also presented to four outstanding business women from the International Women's Entrepreneurial Challenge, Dr Birgit Andrag of By den Weg, Jill Byssche of Neo Trading and Mentee, Denise Stubbs of Thokozani Winelands and Judy Sunesky of Blendwell Chemicals.
---