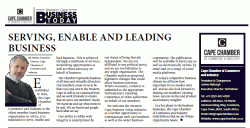 Sid Peimer - Serving, Enable And Leading Business
Sid Peimer - Serving, Enable And Leading Business
2018-11-28
Established in 1804, the Cape Chamber of Commerce and Industry is the oldest member-based business
organisation in Africa. It is mandated to serve, enable and lead business. This is achieved through a multitude of services, networking opportunities as well as robust advocacy on behalf of business.

The Chamber represents business of all sizes and virtually all sectors. Our members count on us to be their eyes and ears in the Western Cape as well as on a national level, and we work tirelessly to ensure that we serve our members' needs. We stand up and say what needs to be said. We are heard and people
heed what we say.

Our ability to lobby with integrity is underpinned by our status of being fiercely independent. We are not affiliated to any political party, and we are not beholden to any single organisation. The Chamber monitors proposed legislative changes that could affect business interests. Where necessary, evidence is submitted to the appropriate Parliamentary Standing Committee or other authorities on behalf of our members.

We welcome the Western Cape Business Today initiative as a further opportunity to communicate with our members as well as the wider business community. The publication will be available in hard copy as well as electronically on line, by email and on a range of social media platforms.

In today's competitive business climate we all know how important it is to market one's self and we also look forward to sharing our members' exciting news, success stories and product and industry insights!
As a key player in the business landscape, the Cape Chamber of Commerce and Industry truly believes that we are Where Opportunity Meets.

---