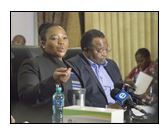 COGTA MEC sheds light on the status of hung municipalities in the province
"We must be mindful that in the case of Jozini, we are dealing with a council that has no speaker. It is therefore not surprising that some of the parties concerned now want to make COGTA and the MEC a scapegoat for their failure to be leaders that act in the interest of the communities", so said MEC for Cooperative Governance and Traditional Affairs (KZNCOGTA) Nomusa Dube- Ncube, whilst addressing the media in Durban on the 6th September 2016.
MEC Dube-Ncube held a media briefing to address journalists on the state of Local Government following the 2016 LG Elections, held on the 3rd August 2016. There has been unrest that has taken place in some of the Local Council that includes Jozini, Nquthu and uMshwathi, where government property was destroyed.
Nzwakele further added that she is seeking legal advice on how to resolve a council impasse in Jozini, even though a simple coin toss could ensure that an executive is constituted.
Since August, the Jozini council has had three council meetings, but has failed to elect an executive. The municipality's councillors will try again on the 8th September 2016. Jozini plays a critical role in supplying water to communities in the Umkhanyakude district.
The ANC holds 19 seats in the council and the IFP 18. The DA, the EFF and an independent councillor all have one seat each. Events there got tricky when the DA and the EFF supported the IFP, and the independent candidate joined forces with the ANC, which left both tied for votes.
The Municipal Structures Act provides for the "casting of a lot" in the event of a tied vote in the process of electing a mayor or municipal councils.
Dube-Ncube added that her Department's official have tried on a number of occasions to amicably and impartially resolve the problems in Jozini and Nquthu, to no avail.
"Despite our best effort to facilitate a speedy resolution to every challenge that has arisen after last month's local government elections, it must be unequivocally and categorically stated that these are the problems that political parties could have solved on their own."
Dube-Ncube said her department was looking at all legal options open to it to resolve these problems.