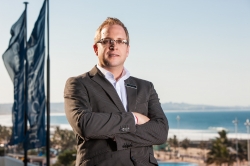 Tsogo Sun - Durban's landmark hotel appoints new General Manager - Wayne Smith
Tsogo Sun (https://www.tsogosun.com/) is pleased to announce the appointment of Wayne Smith as general manager of Durban's iconic Southern Sun Elangeni & Maharani complex (https://www.tsogosun.com/southern-sun-elangeni-maharani).
In this new role, Smith will be responsible for overseeing the landmark 734-room contemporary seafront classic property, while supporting growth objectives, driving operations as well as maintaining the unparalleled service excellence that matches Tsogo Sun's legacy.
"I am thrilled to lead one of the most recognisable and highly frequented hotels on Durban's beach front. Tsogo Sun has a reputation for innovation and excellence in hospitality, and I'm delighted to have the opportunity to continue to be part of this exciting group. I'm looking forward to getting to know our regular guests, welcoming new guests, and building on the success created by the fantastic team here, "says Smith.
With a career spanning more than 20 years, Smith, began his journey at Drakensberg Sun Resort, where he was first employed as a switchboard operator.
Over the years Smith developed a passion for the hospitality sector, which quickly saw him secure management roles at Southern Sun Cullinan, Umhlanga Sands Resort, Garden Court Blackrock and Garden Court South Beach. Most recently, he worked as the hotel general manager at Holiday Inn Sandton.
Now at the helm of Tsogo Sun's most profitable hotel in South Africa, Smith says he is ready for the challenge as he confidently steers the ship to attain top tier results.
"It is indeed a great honour to be entrusted with taking this magnificent hotel to new heights, I look forward to working with the team of highly skilled individuals in driving excellence in hospitality," added Smith.
He says his goal is to position the hotel as the best business and leisure destination in Durban.
Tsogo Sun's Director of Operations, KZN hotels, Samantha Croft applauded Smith's appointment saying she was confident that he will take the legendary Southern Sun Elangeni & Maharani hotel to a new level.
ENDS
ISSUED BY TSOGO SUN HOLDINGS. FOR MEDIA ENQUIRIES PLEASE CONTACT:
Neo Mboniswa | PR & Communications Manager | Tel: 011 510 7746 |
About Tsogo Sun
Tsogo Sun is the leading hotels, gaming and entertainment company in South Africa, providing a variety of hospitality and exciting entertainment and leisure experiences. Combining an established heritage with a professional and energised approach, the group proudly encompasses 13 casinos and over 100 hotels in South Africa, Africa, the Seychelles and Abu Dhabi.
The company's hospitality interests offer a wide distribution of hotels in Africa, providing world-class accommodation across all markets, including elegant, individually branded luxury hotels and well-known trusted market leaders in the premier through budget segments, including Southern Sun Hotels, Garden Court, SunSquare, StayEasy and SUN1 hotels.
The exciting urban and resort casino portfolio includes the most popular entertainment destinations, strategically located throughout South Africa. In the Gauteng province, Tsogo Sun owns the group's flagship property, Montecasino in Fourways, which features, amongst other attractions, the award-winning Teatro; Gold Reef City Casino and Theme Park in Southern Johannesburg; and Silverstar Casino to the West in Krugersdorp. Additional properties are owned and operated in the Western Cape, Eastern Cape, Free State, Mpumalanga and KwaZulu-Natal, including the jewel on Durban's Golden Mile, Suncoast Casino, Hotels and Entertainment.
Tsogo Sun is proud to be a Level 1 B-BBEE Contributor with 135% B-BBEE procurement recognition status, 62.1% black ownership and 34.4% black women ownership. Tsogo Sun invests substantial resources into developing skills, supporting emerging businesses, nurturing communities and creating awareness about the importance of conserving our environment. The cornerstones of Tsogo Sun Citizenship are managed as part of the group's sustainability and growth strategies within the specific areas of community, entrepreneurs and the environment.
Tsogo Sun ("TSH") is listed on the Johannesburg Stock Exchange. The key shareholders of Tsogo Sun are Hosken Consolidated Investments Limited ("HCI"), a JSE listed investment holding company.
Tsogo Sun Gaming supports the National Responsible Gambling Programme. Winners know when to stop. Only persons over the age of 18 are permitted to gamble. National Problem Gambling counselling toll-free helpline: 0800 006 008.
For more information, go to tsogosun.com, follow us on Twitter and Instagram @TsogoSun or like us on Facebook /TsogoSun.

SUBASHNI GOVENDER - Director
T: 031 762 1169 | C: 084 599 9912 | F: 086 618 4482
mailto: subashni@blackbookmedia.co.za
Facebook: Blackbook Events & PR | Twitter: @Blackbook_PR