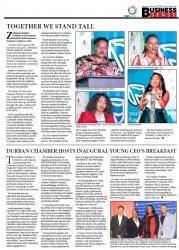 Zululand Chamber - Together We Stand
Zululand Chamber Commerce and Industry Standard Bank Business Women's Conference 2018
"You are only as good as the last service you give", reminded Johanna Mukoki, multiple award-winning business woman and keynote speaker of the ZCCI Standard Bank Business Women's Conference on 22 May 2018 at the Umfolozi Conference and Casino resort.
Master of Ceremony, Carol Ofori was witty, passionate and utterly professional as she kept the programme rolling. The venue was packed, and the Zululand ladies enjoyed meeting the guests of honour and speakers.
The theme for this year's Business Woman's Conference was "Together we stand tall" and women were encouraged to lift each other up and break through the glass ceilings that prohibit growth within the work place.
VIPs in attendance were the King Cetshwayo District Mayor, Councillor Nonhle Mkhulisi; City of uMhlathuze Speaker, Councillor Silondiwe Mkhize; Standard Bank regional and provincial leadership, including the KZN Provincial head of Public Sector Mrs Nelly Mkhize and the Chief Human Resource Officer of Group 5 and President of the Zululand Chamber of Commerce and Industry, Judith Nzimande.
The programme was exciting, and the carefully selected speakers not only motivated the ladies, but also imparted life lessons. Entertainment was provided by the very talented Vanessa Naidoo.
This year the Chamber introduced a new aspect to the programme and a spotlight was shone on a local success story. Bridgette Ngobese, Human Resources Manager of Richards Bay Minerals delivered a touching address of how she overcame her battle with cancer and how she used all the obstacles that came with her diagnosis to become the woman she is today.
The highlight of the evening was keynote speaker, Johanna Mukoki, Her regal presence set the tone for her address. Johanna spoke about the challenges she faces as a woman in business, including the fact that she is often judged on her appearance rather than her capabilities. Johanna continued to say what contributes to the success of her business is building successful relationships with her staff and she believes in "servant leadership", being a prime example to her staff and working with them rather than above them.
The 2018 Business Women's Conference was a roaring success. The Chamber would like to thank the event's headline sponsor Standard Bank SA for the generous sponsorship, Richards Bay Coal Terminal for
their continuous support of the Chamber and being part sponsors of the event. The Chamber would also like to thank all the guests who enjoyed this evening of celebration and motivation.
The next business Women's Conference will be hosted on Thursday, 23 May 2019, so diarise the date!