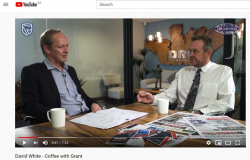 Coffee with Grant...with David White
Coffee with Grant...with David White
2020-03-20
Coffee with Grant...
KZN Top Business is filming a video series entitled Coffee with Grant...
During this series, KZN Top Business publisher Grant Adlam will ask questions of some of the province's leading businesspeople. This is not only a great way to learn more about some of the leaders in the province's business sector but also a means to stay on top of the latest business news and trends.
Interview One features David White, CEO of DRG Outsourcing and chairman of BusinessFit, who is an authentic leader with a passion for people development.
DRG Outsourcing has become an essential service provider in human resource management reporting and compliance services in South Africa. BusinessFit provides entrepreneur development services.
click here to watch coffee with grant
---