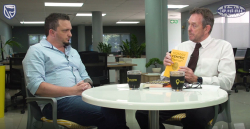 Coffee with Grant and Mike Saunders (Author)
The heart of Mike Saunders' exciting new book,
HumanCentric
, is how to build a successful business in the Fourth Industrial Revolution while focusing on human stakeholders.
Never before have we had so much information so readily available at our fingertips and there is no doubt that acceleration of innovation and the velocity of disruption underpinning the Fourth Industrial Revolution are having a major impact on businesses. Is it realistic to be at the forefront of these disruptive forces? Is it even necessary? It most certainly is.
Knowledge of these disruptive forces - notably mobile, social, the Internet of Things, data and blockchain - equips us to build our businesses in the change that is enveloping us, but we need a framework to help us understand how to operate in a new revolution, how to organise the chaos into success.
It is this framework to which Mike has been applying his mind for the last ten years and in this book he presents just such a model to help us to navigate the digital world and build value in a humancentric way.
The four concepts of his model are explore, ideate, intersect and create and he unpacks each of them in detail and with crystal-clear clarity, while never losing sight of the human element so essential to ensuring success in an ever-evolving world.
With his wide experience both locally and internationally, and his success in running the highly respected DigitLab, as well as his passion for sharing knowledge, Mike is uniquely positioned to share a complete framework for human-centred digital transformation.
Our role in life is not to become digital. Instead, it is how to succeed in a digital world.
Download your copy of
HumanCentric,