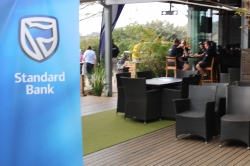 Standard Bank KZN Top Business Golf Challenge
The Standard Bank KZN Top Business Golf Day took place on Thursday the 6th June 2019
at the Simbithi Country club close to Ballito.
Consensus amongst all the players was that it was a fantastic day. Several players thanked
and complimented the organisers. "I've been to many golf days but this was the best ever!"
quipped a happy player.
The competition winners are as follows:
Team Serendipity, Dale O'Brien, Sean Phillips, Crag Pitt and Rory Bouwers were victorious,and repeated their winning performance of 2018.
The second prize went to Team Tongaat Medical Centre, Dr Shalin Moodley, Suren Moodley, King Singh and Suren Moodley.
The "Standard Bank 1" consisting of Sidney Reddy, Ruben Manickum, Diren Singh and Kugan Govender team were narrowly beaten into third place.
Standard Bank provided very attractive prized for the best performing teams of the day.
Derek Rabie, from Team SA Shipyards won the "closest to pin" prize.
Clinton Bullard won the prize for the longest drive.
The day was not just about the best scores, but also who had the most fun. Team Goscor,
Struan Raw, Gordon Smith, Clive Nel and Graham Clare won the prize for the most golf
played.
Every player was a winner. Some just had an extra smile after winning one of the many
wonderful lucky draw prizes on offer.
The biggest lucky draw prize for a team went to Team Tongaat Medical Centre; they won a
fabulous luxury cruise on the Spirit of eLAN for 16 people.
Derek Rabie won a weekend at the beautiful Qunu Falls in the Ixopo area, sponsored by the
Beekman group.
Finally, Jerome Naidoo won very desirable VIP tickets for him and a partner to the eLAN
Gold Cup in July.
Sincere thanks and praise must go to the efficient staff of Simbithi Country Club and the
organiser from KZN Top Business, James van den Berg. "We tried to make this the best, fun
filled golf day possible for all concerned.
From all the thanks and compliments received, it seems we have succeeded" he remarked.
Finally thanks must go to Standard Bank for their sponsorship and excellent assistance to
make the golf day a huge success.
View all the photos on facebook
James van den Berg
Roaming reporter
KZN Businbess Sense
http://kzntopbusiness.co.za/site/kzn-top-business-awards