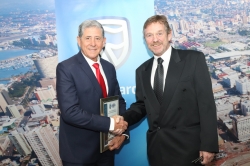 Standard Bank KZN Top Business Personality Award 2019 was given to Allan Hirsch
The Standard Bank KZN Top Business Awards 2019 was held on Thursday 13 June at the Elangeni & Maharani Hotel. The annual awards, now in their thirteenth year continue to be a premier event on the KwaZulu-Natal business calendar.
Imraan Noorbhai, Standard Bank KZN Provincial Head said, "As Standard Bank we are deeply honoured to be a part of this prestigious celebration where we pay tribute to those businesses and individuals that have excelled in their contribution to drive the growth of KwaZulu-Natal."
Guest speaker Peggy-Sue Khumalo, Standard Bank Chief Executive of Wealth South Africa, provided insights into her inspirational life journey so far. The daughter of a domestic worker, Khumalo grew up in rural KwaZulu-Natal. While she aspired to become a lawyer, lack of finances hindered her from completing her studies. After winning Miss South Africa in 1996, then President Nelson Mandela arranged for Investec to sponsor her degree at the UK's Manchester University where she completed BA honours (economics and politics) and a MSc degree in economics. After spending in 17 years at Investec, she joined Standard Bank in February 2019.
Lincoln Mali, Standard Bank Head, Group Card & Emerging Payments, spoke briefly of his transformation from being an 'angry young man' and anti-apartheid activist to a respected business leader.
In line with recognising lifetime achievements, the Standard Bank KZN Top Business Personality Award 2019 was given to Allan Hirsch.
The Standard Bank KZN Top Business awards celebrate achievements, in the public and private business arenas, over the past year. Winners across the various category sectors were:
Mining: Tronox Limited
Manufacturing: Imperial Armour
Construction and Property Development:GeoAfrika
Utilities: SLG (Pty) Ltd
Trade: Supertech Group
Transport: King Shaka International Airport
Financial Services: FMI
Business Services: Capitol Caterers
Community and Social Services: SmartXchange
Tourism: Beekman Group
Municipal: uShaka Marine World
Government: Trade and Investment KZN
The Standard Bank KZN Top Business Top Brand is enthusiastically contested over several weeks, which sees much excitement. This award is awarded solely based on the results of an online public poll. The winner in 2019 is Blue Security.
Two additional awards were given in the SMME and entrepreneur categories. The SMME category award was awarded to New Generation Skills by eLan Property Group.
The Businessfit Entrepreneur Award was awarded to Sherwyn Esbend of Sbenz Construction and Services.
Grant Adlam, publisher of the KZN Top Business, congratulated all winners and finalists. "You are setting the example of putting the best foot forward and are taking KZN's achievements to a higher level."
Alan Khan, the master of ceremonies; comedian Masood Boomgaard, and the band, Tomorrow's World all contributed to making an enjoyable and memorable celebration.
Noorbhai concluded,
"Let us unite in our love for Africa
No matter where we're from or what language we speak
Whatever our background or beliefs
Africa is our home.
The very things that divide others, unite us
Africa brings out the best in us
She showers us with possibilities
She inspires us to greatness
Africa believes in us. Always
Africa loves us. Unconditionally
Africa is our home, we drive her growth."
view photos
Gayle Adlam
KZN Top Business
www.kzntopbusiness.co.za