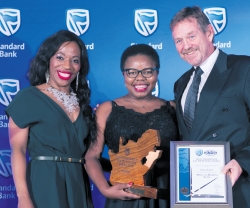 Victoria Ngwenya, Standard Bank Retail and Business Banking: Regional Head KZN, Zakithi Zama Regional Manager Corporate Affairs Tronox, and Grant Adlam, KZN Top Business
Mining Category
2019-07-02
THE WINNER IS ...
Tronox
Tronox is the largest vertically integrated mineral sands producer and one of the world's largest producers of zircon.
The recent acquisition of the titanium dioxide business known as Cristal, positions Tronox to increase production and better meet global demand in a competitive market.
The KZN Sands operation is situated at Empangeni in KwaZulu Natal. The operation consists of the Fairbreeze Mine at Mtunzini and Central Processing Complex in Empangeni.
The Fairbreeze Mine uses hydraulic mining techniques to mine slurry for the primary wet plant at the mine. The product of the primary wet plant is a heavy mineral concentrate (HMC) that is transported via road to the Mineral Separation Plant at the Empangeni Smelter Complex. The HMC is then further beneficiated to produce zircon, rutile and ilmenite at the mineral separation plant. This ilmenite is fed into the two 36 MW furnaces which reduce it into high titania slag and low manganese pig iron.
With nearly 7000 employees across six continents, with its rich diversity, unmatched vertical integration model, and unparalleled operational and technical expertise across the value chain, Tronox is the pre-eminent titanium dioxide producer in the world.
Supported by strong governance principles of risk management and compliance to host country laws, Tronox builds trusting relationships with its stakeholders. Tronox continuously engages on co-existence strategies, understanding the need for one another in promoting and sustaining long-term social, economic and environmental development in the region.

---