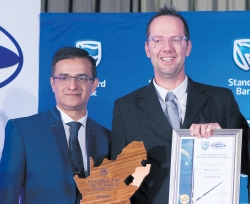 Imraan Noorbhai, Standard Bank KZN Provincial Head; Brandon Mans, Customer Experience Manager Beekman Group
TOURISM AWARD
2019-07-02

THE WINNER IS ...
Beekman Group
The Beekman Group was started by brothers John and the late Bram Beekman and has been in operation for almost 50 years. From its first vacation ownership development in 1982, they went on to revolutionise the timeshare industry. The Holiday Club was opened in 1993, launching the flexible points system, which catapulted the business to success. Other leisure products followed, including resort and hotel development, resort and hotel management services, accommodation rental, accommodation exchange and commercial and residential property development.
Leadership reins have been handed over to the second generation. Wayne Beekman, Neville Beekman and Cindy Allan lead a team of more than 1 000 staff members, with John still taking an active interest in operations and giving advice where needed. The Beekman Group is proud of this latest accolade and is committed to providing continued service excellence to the property development and tourism sectors.
The Group is also proud to announce that the Beekman Managed Portfolio (BMP) won the award for Africa's Leading Travel Club from World Travel Awards 2019. The BMP is a collection of The Beekman Group's high-end resort developments offering a combination of lifestyle and leisure property investment.
The World Travel Awards is a global award that serves to acknowledge, reward and celebrate excellence across all sectors of worldwide travel as the ultimate hallmark of industry excellence.
FINALIST
Ndzenga Tours and Safaris
Ndzenga Tours and Safaris was established by Makhosi Msimango in 2006 with the goal to provide domestic and international tourists with cultural and township experiences in the Zulu Kingdom. The 100% black female owned company's head office is in Hillcrest, KwaZulu-Natal. Msimango is the chairperson of the Women in Tourism KZN Chapter, former committee member of the 1000 Hills Community Tourism executive committee member and winner of the KZN Lilizela Tourism Award for Service Excellence.

---