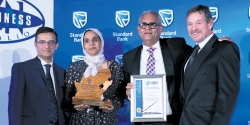 Imraan Noorbhai, Standard Bank KZN Provincial Head; Fatima Sarigat Centre Manager SmartXchange; Jonathan Naidoo CEO SmartXchange and Grant Adlam, KZN Top Business
COMMUNITY AND SOCIAL SERVICES
2019-07-02

THE WINNER IS ...
SmartXchange
Based in the coastal city of Durban, with an anchor office in Port Shepstone, the Durban Technology Hub which trades as SmartXchange, is an innovation node and a dynamic business incubation centre established to support and promote the region's vision to be the technology hub of Africa.
SmartXchange is in its fifteenth year of delivering world class services towards SMMEs within the Media, Information, Communications, Technology and Electronics (MICTe) sector. Since inception, SmartXchange has placed emphasis on its core values, which are; innovation, growth and development, job creation, black economic empowerment as well as supporting local business in the development of home growth solutions.
With fruitful partnerships, SmartXchange has continuously managed to deliver on its mandate of SMME development via the vast range of support services offered to SMMEs during the three-year incubation period.
FINALISTS
Tuberculosis and HIV Investigative Network (THINK)
THINK (TB and HIV Investigative Network) is a globally recognised, non-profit organisation that conducts clinical research and health care improvement to alleviate suffering arising from Tuberculosis and Human Immunodeficiency Virus (HIV) infection. While its area of influence incorporates the African continent, THINK is based in KwaZulu-Natal where infection rates are particularly high.
THINK is currently conducting clinical trials aimed at improving diagnosis, treatment and care for TB and HIV infected individuals. The TB and HIV burden in KwaZulu-Natal is among the highest in the world. The province also suffers from the highest number of drug resistant TB cases per population and was the scene for the 'XDR TB outbreak' in 2005 leading to the uncovering of Extensively Drug Resistant (XDR) TB.
New treatments under evaluation at THINK include the first new TB drugs to be developed since the 1950s. Current research at THINK has the possibility of shortening treatment for both drug sensitive and drug resistant TB to six months or less and to change millions of lives by providing a single cure for all strains of TB in the next 10 years.
Celebrate Life SA
Celebrate Life SA aims to create awareness and facilitate support to alleviate human and environmental suffering, to catalyse change through community engagement, social networks and broadcast platforms.
A group of caring people, who have known each other and worked together for many years, became inspired to establish a project that not only made use of their individual talents, but also confronted some of the more serious issues facing our planet, with the express purpose of addressing as many of these issues as possible. ï'¡
..
---