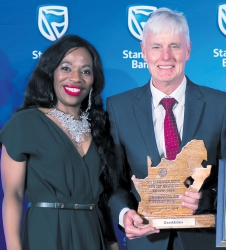 Victoria Ngwenya, Standard Bank Retail and Business Banking: Regional Head KZN and Peter Hoffmann, CEO GeoAfrika
CONSTRUCTION AND DEVELOPMENT AWARD
2019-07-02

THE WINNER IS …
GeoAfrika
GeoAfrika divisions have been consistently contributing to the KZN economy and development landscape for the last 40 years, particularly in human settlements, transport and planning policy development.
GeoAfrika draws on the skills of experienced professional teams working across surveying, land information systems, legal services and property management. The core service offerings include the valuation of property, acquisition of development rights, surveying in all forms, sales administration, development management, conveyancing, GIS mapping services and environmental assessments.
With this comprehensive offering, GeoAfrika is able to work with clients, and add value, across the entire development process. This holistic view helps to reduce risk, cost and uncertainty for clients. Working as a collaborative team, GeoAfrika is able to build unique solutions for each project, and their secure, consolidated information system means they're best able to harness the power of clients' data through customised digital tools.
"I think we, as a group, can be very proud that the work we do fundamentally improves someone's life." says GeoAfrika CEO Peter Hoffman, "we really do believe we can bring any project to fruition and make a difference in people's lives."
FINALISTS
Shree Property Holdings
Established in 2007, Shree Property Holdings is a family owned Durban based business. Their innovative developments include Pran Park in the Dube TradeZone, Pran Boulevard in the Umhlanga's Ridgeside precinct, Pran Park Shakaskraal as well as bulk container storage facilities in Durban.
By developing AAA Grade new generation industrial warehousing, Shree Property Holdings pushes boundaries through technology, innovation and specialisation.
Masithu Consulting and Project Managers
Masithu Consulting and Project Managers (MCPM) celebrated 10 years in 2018 of being in the built environment industry. The company was started by a passionate self-driven young engineering entrepreneur with just two employees which has grown to 32 full-time employees. The staff complement ranging from professional engineers, contract managers, project administrators to technicians. MCPM prides itself in being an enabler and a game changer in the civil engineering field in inspiring new innovative ways of approaching civil engineering.

---