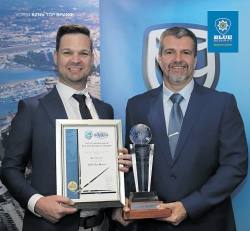 Darren Lategan Sales & Marketing Director Blue Security, and Henk van Bemmelen CEO Blue Security with the Top Brand Award 2019
BATTLE OF THE BRANDS - Blue Security
2019-07-09
BATTLE OF THE BRANDS
KwaZulu-Natal is home to many well-known brands that have been home-grown and driven from within the province. Most of these companies have long histories and continue to expand their footprints today.
Each year the much coveted KZN Top Brand award is given to the brand that has the most votes on a public online poll. Once more the interest shown in this award is reflected in the large number of votes cast. For a brand to succeed in today's competitive world it needs to be as go above and beyond consumer expectations to remain on the cutting edge of its industry. Consequentially we are delighted that the various companies take advantage of the opportunity to encourage their staff members, clients and other stakeholders to get involved in the voting process, which takes place over several weeks.
Each person voting is required to register with their email address and is only allowed to vote once.
The 2019 competition had over 500 brands competing for the coveted top position.
The 2019 TOP KZN brands are
Blue Security
Hollywoodbets
Supertech Group
Woodford Car Hire
uShaka Marine World
MCS Debt Recovery
FMI
Afro's Chicken Shop
Tyson Properties
Cox Yeats Attorneys
Serendipity Travel
East Coast Radio
Capitol Caterers
King Shaka International Airport
Hirsch's
DRG Outsourcing
In2assets Property Specialists
The Document Warehouse
Imperial Armour
SLG (Pty) Ltd
---