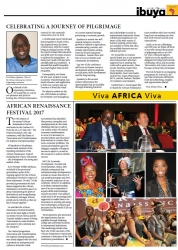 African Renaissance Festival 2017
The 19th edition of the annual African Renaissance Festival was hosted at the Durban ICC from the 25 to 27 May 2017. The Festival included a two-day conference, with the theme of "Innovation and Transformation for Inspired Entrepreneurship".
All speakers in the plenary session made mention of the founding sentiments of the African Renaissance Festival including that of pan-Africanism â€" the development of a strong and unified Africa.
KZN Premier Willies Mchunu, on behalf of the provincial government, spoke of the ongoing support for the African Renaissance Festival in respect of these sentiments. He said, "As the provincial government we have always supported the African Renaissance Festival because it is about reawakening the spirit of brotherhood and strengthening the solidarity amongst African people and to remind us that our fate is bound together."
He said that the African Renaissance Festival should be seen in the same light as World Economic Forum Africa and the Tourism Indaba in terms of being "instruments to unite brothers and sisters in the continent and the Diaspora".
The Festival programme 'Innovation and Transformation for Inspired Entrepreneurship' was closely aligned with the need to promote an entrepreneurial culture in KwaZulu-Natal.
Government has identified that poverty; inequality and unemployment are the main challenges that face youth in our society today. For radical economic transformation to occur it is necessary to provide holistic and innovative interventions to counter these socio-economic problems. The various presentations gave the delegates examples of business success to aspire to, as well as the resources to achieve similar success.
MEC for Economic Development, Tourism and Environmental Affairs, Sihe Zikalala commented that entrepreneurship development is a means to ensure that more of our people participate and drive the economic trajectory of our continent. However, in addition, to facilitate entrepreneurship, ease of access to education to acquire skills and knowledge must be provided. Our talented youth need to be encouraged and supported to enable them to be innovators in creating and using new technologies, products and processes for the benefit of all our communities.
The programme also promoted the opportunities that are available through obtaining college and university bursaries to international institutions. This marketing initiative has been one of the outcomes of the African Renaissance Festival and continues to form part of the 2018 conference presentations.
www.africannrenaissance.net