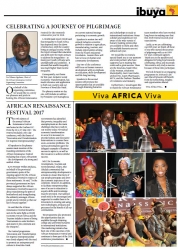 Prof Sihawu Ngubane - Celebrating A Journey Of Pilgrimage
Prof Sihawu Ngubane - Celebrating A Journey Of Pilgrimage
2018-05-23
Prof Sihawu Ngubane, Chair of the African Renaissance Festival Organising Committee On behalf of the
organising committee, we would like to convey our pleasure and pride in hosting the African Renaissance
Festival for the twentieth consecutive year in 2018.

A World Bank report (2018) said that inequality in South Africa has deepened since the dawn of democracy, with the country being an unequal society. While the report stressed that education and skills were the main avenues to address the inequalities â€" as many poor South Africans were unemployable and unskilled â€" it
stressed that wealth inequality was much higher than income inequality.

Consequently, our theme for this year, Inclusive Social Economic Transformation, has much relevance and application to both our country and our Province of KwaZulu-Natal. The plenary session on day one, will include an address by President Cyril Ramaphosa on current national strategy pertaining to economic growth.

Speakers in session two will unpack inclusive economic growth in relation to agriculture, manufacturing, tourism, and include opportunities arising from the Fourth Industrial Revolution. Session three will have a focus on human and community development.

Day two of the conference will focus on human resource development with an emphasis on education, skills development and life-long learning. Speakers in the second session will promote the opportunities that are available through obtaining bursaries and scholarships to study at international institutions. Many scholars and students are not aware of the wide variety of bursary funding options that are available to them and often the available bursaries are not utilised each year.

We would like to extend a special thank you to our sponsors and event partners who have supported us in making this event such a great success. These are the KwaZulu-Natal Office of the Premier, eThekwini Municipality, East Coast Radio, uKhozi FM, Aspen Pharmacare, MTN, and the Durban Chamber of Commerce and Industry.

Furthermore, I would again like to thank the African Renaissance team members who have worked long hours in making sure that this 2018 Festival exceeds your expectations.

Lastly, as we are celebrating out 20th year, we thank all those of you who started this journey of pilgrimage with us in 1999 for your continued support. Thank you to the speakers and delegates for being loyal towards celebrating Africa and its people.

This event is only truly a success because of those who participate. We look forward to an engaging programme in 2018 and I am sure that all present will benefit from the networking, insights and opportunities shared.

Viva Africa Viva...
---