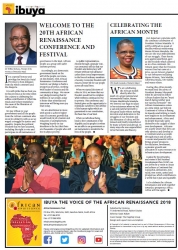 Cllr Zanele Gumede - Celebrating The African Month
Cllr Zanele Gumede - Celebrating The African Month
2018-05-23
Cllr Zanele Gumede, eThekwini Mayor

We are celebrating the African month shortly after the death of a great national and international leader, Mama Winnie Madikizela Mandela.

We lowered our flags in salute to her astuteness when we bid a sad and painful farewell to this great leader whose sterling devotion and dedication to the struggles of our freedom and the liberation of Africa will be
missed and fondly remembered by many at home and abroad. In many ways she was unparalleled in her heroism and bravery.

Her departure coincides with the centenary celebration of President Nelson Mandela. It will be difficult to speak of Madiba without mentioning Mama Winnie Mandela; the two are the true embodiments of our struggle. Their heroic acts against apartheid, gave us the freedom which ushered us to a free continent. We
remain aware that the freedom was not free but came at a price, we are forever grateful to our forbearers including Mama Winnie, Tata Madiba, Albertina Sisulu, OR Tambo and many others.

During this Africa month, we must heed the advice of President Kwame Nkrumah when he advised his fellow African leaders that we "must march facing neither west nor east but forward!!" The African Renaissance comes at a time when our beloved Continent of Africa is flexing its muscles and itching to reach new heights in its development and advancement. Africa and its people must take upon themselves the cudgels of their own development. Africans are acutely aware that they can only advance and develop as a Continent and as a people through peace and security.

A secure and peaceful Africa brings greater prospects for education, investment, economic growth and allocation of scarce resources to infrastructure development. Guided by the principles and vision of the National Development Plan (NDP), we are driven by a vision to create and achieve a Continent that is peaceful, democratic, nonracial, non-sexist, united and prosperous, which contributes to a world that is just and equitable.

Let's celebrate the African Renaissance and work together towards a prosperous Africa.

Africa will rise again.
---