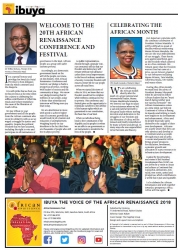 Mr Willies Mchunu, Premier of the Province of KwaZulu-Natal - Welcome To The 20th African Renaissance Conference And Festival
Mr Willies Mchunu, Premier of the Province of KwaZulu-Natal - Welcome To The 20th African Renaissance Conference And Festival
2018-05-23
It is a special honour and privilege for KwaZulu-Natal Province to host delegates from the whole continent and the diaspora.

It is with pride that we host you in this province at the time when the country is celebrating the selfless contribution of Albertina Sisulu and Nelson Mandela to the cause of the liberation of South Africa.

We pay tribute to your governments and all the people from the African continent who stood in solidarity with us as we waged a struggle for justice and equality. Despite the political freedom that we have attained,
including the right to vote and participate in all institutions of governance in the land, African people as a group still suffer extreme poverty.

Accordingly, as a democratic government based on the will of the people, we renew, on this historic 20th African Renaissance Conference and Festival, our pledge to build a prosperous province, working with leaders of society and the community at large. We renew our pledge knowing that for millions of our people, today is better than yesterday and tomorrow will bring more joy than today.

We are determined to move with speed to achieve higher rates of economic growth that would result in job creation and reduction of unemployment. Weighing heavily on our shoulders is the fact that there are thousands of people who still live in abject poverty.

As public representatives, elected through a popular vote, our conscience tells us that our freedom and democracy will remain without real substance unless there is real improvement in the lives of ordinary members of society. Economic freedom will ensure a better life for our people across all racial lines.

When we started this term of office in 2014, we knew that our freedom would not be complete while millions continued to live in poverty. This conference and festival gives us the opportunity to rededicate ourselves to the defense of the human rights which are guaranteed in our constitution, the basic law of our land.

When we talk about being loyal to the Constitution of the Republic and its people it is when we are able to use government as an instrument to transform the lives of the people.
---