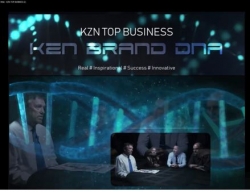 KZN Top Business Team
KZN Brand DNA
2019-05-05
The diverse and vibrant province of KwaZulu-Natal has produced some of south Africa's most famous home-grown brands. Many of these brands have achieved this success in the local, national and even international market place. In so doing they have contributed to our local economy and attributed to our strong sense of community pride in the province.
Companies may sell the same type of product or service and may have similar styles, but each brand has its own DNA â€" its quintessence. The DNA is what the company stands for, and, ultimately, it's the lens through which stakeholders perceive the business.
Through this coffee table book, as well as the KZN Brand DNA video series, our purpose is to capture some of the elements of what makes these KwaZulu- Natal brands unique â€" what the company is all about â€" their DNA.
Many successful businesses are the realisation of a vision. They are generally the product of a huge amount of passion and hard work. The KZN Brand DNA stories provide a glimpse into each of the business's background story, as well as insight into the key drivers which have made them what they are today.
The KZN Brand DNA stories highlight the values, beliefs and feelings that create (or are created by) a brand. Often these are the reasons why people wake up in the morning and go to work. They may also be the reason why people buy the products or use the services offered.
Through the KZN Brand DNA publication and video series we hope to motivate other businesses to share their own DNA stories on this and other platforms.

---