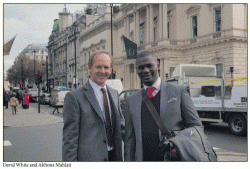 David White, Chairman of Business Fit in South Africa and Business Fit International in the UK is flying to London
South African Chamber of Commerce Gala Dinner
2019-03-11
David White, Chairman of Business Fit in South Africa and Business Fit International in the UK is flying to London next week on the new direct BA flight from Durban to London Heathrow. The purpose of his visit is to attend the South African Chamber of Commerce Gala Dinner at the House of Lords hosted jointly by Lord Peter Hain, Patron to the Chamber and Sharon Constancon, Chair of the Chamber. The dinner will be held in the sumptuous and historic House of Lords Cholmondeley Room overlooking the River Thames.
David will be accompanied by Mike Miller, Managing Director of Business Fit International in the UK. As a newly appointed Platinum member of the South African Chamber, which is to be announced at the Gala Dinner, David and Mike will also be attending a VIP Chamber dinner the night before at Hogan Lovells in Holborn and a VIP breakfast the morning after at Freshfields in London.
David and Mike will be outlining the newly launched Business Fit Business Assessment programme assisting South African businesses to successfully enter the UK market. Mike is the Director of the SA Chamber Business Hub in the UK and has already assembled a core team of consultants to sit on the Business Hub Group as well as several other experts who will be able to add their valuable expertise to the process to the undoubted benefit of South African businesses and brands.
The South African based Fair Food Company is the first client of the Business Fit International Assessment process. The Fair Food Company has already been assisted through the partnership with business introductions to a major international restaurant chain as well as support entering the lucrative UK food market that will directly benefit of hundreds of emerging farmers in South Africa.
www.baq.co.za

https://businessfit.co.za/

http://www.drgoutsourcing.com/
---