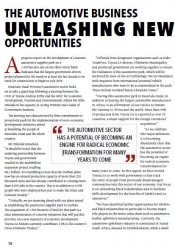 The Automotive Business Unleashing New Opportunities - Pivot
The Automotive Business Unleashing New Opportunities - Pivot
2017-06-12
A progress report on the development of a massive automotive supplier park on a 1 000 hectare site on the Illovo River bank indicates that the largest government-driven project planned for the south in at least the last decade is on track for construction to begin in July 2019.

KwaZulu-Natal Province's automotive sector looks set to take a giant leap following a meeting between the CEO of Toyota Andrew Kirby and the MEC for Economic Development, Tourism and Environmental Affairs Mr Sihle Zikalala in his capacity as Acting Premier and Leader of Government Business.

The meeting was characterised by firm commitments to proactively push for the implementation of socio-economic development initiatives aimed at benefiting the people of KwaZulu-Natal and the whole country.

Mr Zikalala remarked, "It should be noted that the enduring partnership between Toyota and government resulted in the multibillion expansion project totalling R6.1 billion. It is humbling to note that the Durban plant now has an annual production capacity of more than 220 thousand units and has already contributed to creating more than 8 000 jobs in the country. This is in addition to 4 000 people who were employed last year to make the Hilux and Fortuner models."

"Critically, we are steaming ahead with our plans aimed at establishing the automotive supplier park in Durban. The acquisition of 1 000 hectares of land for this park is a clear demonstration of concrete initiatives that will put this province on a new trajectory of economic development. Toyota SA Motors currently contributes 7.2% to the country's
Gross Domestic Product."

"Officials from designated organisations such as Dube TradePort, Toyota SA Motors, eThekwini Municipality and provincial government are working together to ensure the realisation of this automotive park, which will be anchored by state-of-the-art technology. We are inundated with enquiries from international potential vehicle manufacturers who want to be accommodated in the park. These include Scotland based Alexander Denis."

"Having this automotive park in KwaZulu-Natal, in addition to hosting the largest automobile manufacturer in Africa, is an affirmation of our resolve to remain the Gateway to Africa and the world. More than 50% of production from Toyota SA is exported to over 70 countries, a major support for the foreign currencies' acquisition."

"As we celebrate this major milestone, it is becoming abundantly clear that the automotive sector has the potential of becoming an engine for radical economic transformation for many years to come. In this regard, we have invited Toyota SA to work with government to fast-track the entry of people from previously disadvantaged communities into this sector of our economy. Our focus is on unleashing black industrialists and to facilitate skills development for the benefits of SMMEs and cooperatives."

"We have identified further opportunities for SMMEs and black industrialists in particular to become major role-players in the entire value chain such as automotiveleather-
upholstery-manufacturing. Currently, the automotive upholstery industry is constituted of Aunde South Africa, situated in Ezimbokodweni, while a small amount of automotive leather is produced by Toyota Boshuko and supplied exclusively to Toyota South Africa
Motor Corporation for use in their locally produced vehicles, also situated in the South Durban area."

The development is designed to build about 200 mini factories. The ideal development proposal may be a combination of facilities, encompassing a variety of options from smaller light industrial units, to large warehouse units, commercial offices and transport and logistics facilities.

"We welcome the expressed commitment by the management of Toyota towards transformation and achieving equity targets set by government. By and large, as government we want the partnership between the state and private sector to benefit the majority of our people who remain trapped in abject poverty to become stronger at all times. We must work together to create a better province with an equal society, living in harmony and knowing that tomorrow will be far better than yesterday."

The park will primarily serve the Toyota car manufacturing plant in Prospecton, being a centralised hub for companies called original equipment manufacturers (OEM) supplying Toyota with components that make some of their end products.

The massive auto development will play a huge role towards achieving the objectives of South Africa's automotive production and development programme, which aims to boost local production to 1.2 million vehicles per annum by 2020.
---