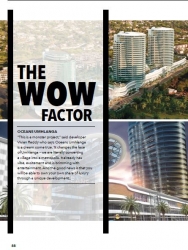 The Wow Factor : Oceans Umhlanga - Pivot
OCEANS UMHLANGA
"This is a monster project," said developer Vivian Reddy who says Oceans Umhlanga is a dream come true. 'It changes the face of Umhlanga â€" we are literally converting a village into a metropolis. It already has vibe, excitement and is brimming with entertainment. And the good news is that you will be able to own your own share of luxury through a unique development...
The iconic Oceans Umhanga is a mixed use development, which has been described as the most outstanding project in South Africa. Oceans Umhanga has been conceived by Vivian Reddy of the Edison Property Group and Rob Alexander of the Ducatus Property Group.
Reddy says, "I strive to be the best in every aspect of my professional life, whether that is in property, the power industry or in construction. "My core strength is in my focus in everything that I do." He says that he has always dreamed big, has had a vision for what he aims to achieve and is passionate about the projects he embarks on.
Covering a total of 90 000m², Oceans Umhanga will comprise 460 luxury apartments, a 33,000m² shopping mall with international retailers such as Burberry, Armani, Hugo Boss and Michael Kors shopping mall and a 200-room five-star Radisson Blu Hotel. Apart from other entertainment facilities it will also comprise South Africa's first snow park.
In 2016 the development sold 93% of its units and achieved R1.55 billion within four hours of being put on the market â€" a South African record.
Reddy said, "Oceans Umhlanga has the wow factor. It has been developed as something that people will aspire to own. We have created an appetite for something exceptional." Oceans Umhlanga is already winning awards. In 2016 it won the International Property Award in Best Mixed-Use Architecture in Africa, and Best Mixed-Use Development in Africa.
Vivian Reddy recently invited South Africans from all sectors of society, from executives to domestic workers, to buy shares in the Radisson Blu Hotel, which will be built as part of the Oceans development. Shares in the development are going for R20 each, with a minimum purchase of 50 shares for R1000. He says, "I have decided to act and address the criticism that business does not share its wealth. We have created an opportunity for ordinary South Africans to become wealthy."
Reddy added that this opportunity is something different and that it will contribute to the process of radical economic transformation in the country. "It gives me the greatest pleasure to see even a domestic worker taking her family to this world
class five star hotel and proudly say I am a shareholder."
Oceans Umhlanga is also creating numerous job opportunities that will help to alleviate the unemployment problem in South Africa. During the construction process 15 000 direct jobs will be created and 2500 indirect jobs thereafter. A unique procurement scheme has been established that will ensure that previously disadvantaged individuals, companies, and women are considered first. After completion of the project, the aim is to allocate 50% of all work to these groups. Oceans Umhlanga is set for completion in 2019.
Oceans Umhlanga has the wow factor websites:
www.oceans-umhlanga.co.za
or
www.oceansinvestments.com
.
UMHLANGA ROCKS
Umhlanga Rocks means 'place of reeds' in Zulu. From its first occupancy by San hunter-gatherers in the 1800's; the arrival of British sugar barons and Indian labourers in 1860's, and the building of the Oyster Box beach cottage in 1869, to the construction of the signature red and white lighthouse in 1953, the opening of KwaZulu-Natal's first five-star hotel, the Beverly Hills in 1964, and the over R5billion worth of investment under construction or planned for the area, Umhlanga Rocks has always been a multilayered place, with multiple meanings for an array of people.
For Umhlanga Rocks, the process of uncovering its essence began in 2014, when
a collective of Umhlanga Rocks property owners, developers and hotels, understanding that imminent development would re-shape Umhlanga Rocks both physically and in terms of perceptions, decided it was time to plan for a collective Umhlanga Rocks future.
Synthesized into a motivating reason for being, Umhlanga Rocks has been positioned as a gateway from the stresses of the world, a place of family and community, where work, play and life are in balance.