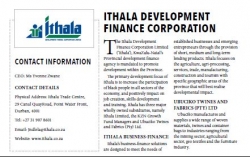 Public Entities : Ithala Development Finance Corporation - Pivot
Public Entities : Ithala Development Finance Corporation - Pivot
2017-06-12
The Ithala Development Finance Corporation Limited ('Ithala'), KwaZulu-Natal's Provincial development finance agency is mandated to promote development within the Province.
The primary development focus of Ithala is to increase the participation of black people in all sectors of the economy, and positively impact on job creation, skills development
and training. Ithala has three major wholly owned subsidiaries, namely Ithala Limited, the KZN Growth Fund Managers and Ubuciko Twines and Fabrics (Pty) Ltd.
ITHALA BUSINESS-FINANCE
Ithala's business-finance solutions are designed to meet the needs of established businesses and emerging entrepreneurs through the provision of short, medium and long-term lending products. Ithala focuses on the agriculture, agri-processing, services, trade, manufacturing, construction and tourism with specific geographic areas of the province that will best realise developmental impact.
UBUCIKO TWINES AND FABRICS (PTY) LTD
Ubuciko manufactures and supplies a wide range of woven materials, twines and container bags to industries ranging from the mining sector, agricultural sector, geo textiles and the furniture industry.
CONTACT INFORMATION
CEO: Ms Yvonne Zwane
CONTACT DETAILS
Physical Address: Ithala Trade Centre, 29 Canal QuayRoad, Point Water Front, Durban, 4001
Tel: +27 31 907 8601
Email:
Jndlela@ithala.co.za
Website:
www.ithala.co.za
---