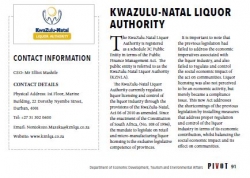 Public Entities : KwaZulu-Natal Liquor Authority - Pivot
Public Entities : KwaZulu-Natal Liquor Authority - Pivot
2017-06-12
The KwaZulu-Natal Liquor Authority is registered as a schedule 3C Public Entity in terms of the Public Finance Management Act. The public entity is referred to as the KwaZulu-Natal Liquor Authority (KZNLA).
The KwaZulu-Natal Liquor Authority currently regulates liquor licensing and control of
the liquor industry through the provisions of the KwaZulu-Natal, Act 06 of 2010 as amended. Since the enactment of the Constitution of South Africa, (No. 108 of 1996), the mandate to legislate on retail and micro-manufacturing liquor licensing is the exclusive legislative competence of provinces.
It is important to note that the previous legislation had failed to address the economic
imperatives associated with the liquor industry, and also failed to regulate and control
the social economic impact of the act on communities. Liquor licensing was also not perceived to be an economic activity, but merely became a compliance issue. This new Act addresses the shortcomings of the previous legislation by installing measures that address proper regulation and control of the liquor industry in terms of its economic contribution, whilst balancing the social economic impact and its effect on communities.
CONTACT INFORMATION
CEO: Mr Elliot Mashile
CONTACT DETAILS
Physical Address: 1st Floor, Marine Building, 22 Dorothy Nyembe Street, Durban, 4001
Tel: +27 31 302 0600
Email:
Nontokozo.Mazeka@kznlqa.co.za
Website:
www.kznlqa.co.za
---