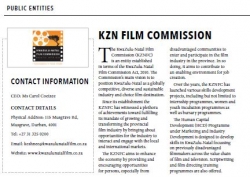 Public Entities : KZN Film Commission - Pivot
Public Entities : KZN Film Commission - Pivot
2017-06-12
The KwaZulu-Natal Film Commission (KZNFC) is an entity established in terms of the KwaZulu-Natal Film Commission Act, 2010. The Commission's main vision is to position KwaZulu-Natal as a globally competitive, diverse and sustainable industry and choice film destination.
Since its establishment the KZNFC has witnessed a plethora of achievements toward fulfilling its mandate of growing and transforming the provincial film industry by bringing about opportunities for the industry to interact and engage with the local and international markets.
The KZNFC aims to enhance the economy by providing and encouraging opportunities for persons, especially from disadvantaged communities to enter and participate in the film industry in the province. In so doing, it aims to contribute to an enabling environment for job creation.
Over the years, the KZNFC has launched various skills development projects, including but not limited to internship programmes, women and youth incubation programmes as well as bursary programmes.
The Human Capital Development (HCD) Programme under Marketing and Industry Development is designed to develop skills in KwaZulu-Natal focussing
on previously disadvantaged filmmakers across the value chain of film and television. Scriptwriting and film directing training programmes are also offered.
CONTACT INFORMATION
CEO: Ms Carol Coetzee
CONTACT DETAILS
Physical Address: 115 Musgrave Rd, Musgrave, Durban, 4001
Tel: +27 31 325 0200
Email:
keshnee@kwazulunatalfilm.co.za
Website:
www.kwazulunatalfilm.co.za
---