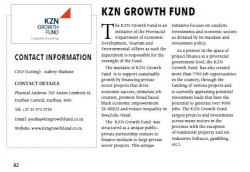 Public Entities : KZN Growth Fund - Pivot
Public Entities : KZN Growth Fund - Pivot
2017-06-13
The KZN Growth Fund is an initiative of the Provincial Department of Economic Development, Tourism and Environmental Affairs as such the department is responsible for the oversight of the Fund.
The mandate of KZN Growth Fund is to support sustainable growth by financing private sector projects that drive economic success, stimulate job creation, promote broad based black economic empowerment (B-BBEE) and reduce inequality in KwaZulu-Natal.
The KZN Growth Fund was structured as a unique publicprivate partnership venture to finance medium to large private sector projects. This unique initiative focuses on catalytic investments and economic sectors as dictated by its mandate and investment policy.
As a pioneer in the space of project finance at a provincial government level, the KZN Growth Fund has also created more than 7700 job opportunities in the country, through the funding of various projects and is currently appraising potential investment leads that have the potential to generate over 9000 jobs. The KZN Growth Fund targets projects and investments across many sectors in the province with the exception of residential property and sin industries (tobacco, gambling, etc.).
CONTACT INFORMATION
CEO (Acting): Aubrey Shabane
CONTACT DETAILS
Physical Address: 303 Anton Lembede St, Durban Central, Durban, 4001
Tel: +27 31 372 3720
Email:
ayesha@kzngrowthfund.co.za
Website:
www.kzngrowthfund.co.za
---