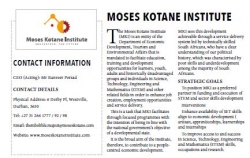 Public Entities : Moses Kotane Institute - Pivot
The Moses Kotane Institute (MKI) is an entity of the Department of Economic Development, Tourism and Environmental Affairs that is mandated to facilitate education, training and development opportunities for learners, youth, adults and historically disadvantaged groups and individuals in Science, Technology, Engineering and Mathematics (STEM) and other related fields in order to enhance job creation, employment opportunities and service delivery.
This is a task that MKI facilitates through focused programmes with the intention of being in line with the national government's objective of a developmental state.
It is the broad aim of the institute, therefore, to contribute to a peoplecentred economic development.
MKI sees this development achievable through a service delivery system led by technically skilled South Africans, who have a clear understanding of our political history, which was characterised by poor skills and underdevelopment among the majority of South Africans.
STRATEGIC GOALS
To position MKI as a preferred partner in funding and execution of STEM and sector skills development interventions
Enhance availability of SET skills align to economic development (artisan, apprenticeships, learnerships and internships
To improve access to and success in Science, Technology, Engineering and Mathematics (STEM) skills, occupations and research.
CONTACT INFORMATION
CEO (Acting): Mr Ranveer Persad
CONTACT DETAILS
Physical Address: 6 Derby Pl, Westville, Durban, 3630
Tel: +27 31 266 1777 / 92 / 98
Email:
thembelihle.majozi@moseskotane.com
Website:
www.moseskotaneinstitute.com