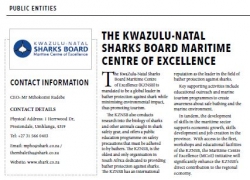 Public Entities : The KwaZulu-Natal Sharks Board Maritime Centre Of Excellence - Pivot
Public Entities : The KwaZulu-Natal Sharks Board Maritime Centre Of Excellence - Pivot
2017-06-13
The KwaZulu-Natal Sharks Board Maritime Centre of Excellence (KZNSB) is mandated to be a global leader in bather protection against shark while minimising environmental impact, thus promoting tourism.
The KZNSB also conducts research into the biology of sharks and other animals caught in shark safety gear, and offers a public education programme on safety precautions that must be adhered to by bathers. The KZNSB, is the oldest and only organisation in South Africa dedicated to providing bather protection against sharks.
The KZNSB has an international reputation as the leader in the field of bather protection against sharks. Key supporting activities include educational outreach and marine tourism programmes to create awareness about safe bathing and the marine environment.
In tandem, the development of skills in the maritime sector supports economic growth, skills development and job creation in the province. With access to the fleet, workshops and educational facilities of the KZNSB, the Maritime Centre of Excellence (MCoE) initiative will significantly enhance the KZNSB's direct contribution to the regional economy.
CONTACT INFORMATION
CEO: Mr Mthokozisi Radebe
CONTACT DETAILS
Physical Address: 1 Herrwood Dr, Prestondale, Umhlanga, 4319
Tel: +27 31 566 0403
Email:
mpho@shark.co.za
/
thembalethu@shark.co.za
Website:
www.shark.co.za
---