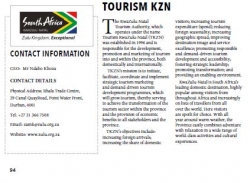 Public Entities : Tourism KZN - Pivot
Public Entities : Tourism KZN - Pivot
2017-06-13
The KwaZulu-Natal Tourism Authority, which operates under the name Tourism KwaZulu-Natal (TKZN) was established in 1996 and is responsible for the development, promotion and marketing of tourism into and within the province, both domestically and internationally.
TKZN's mission is to initiate, facilitate, coordinate and implement strategic tourism marketing and demand-driven tourism development programmes, which
will grow tourism, thereby serving to achieve the transformation of the tourism sector within the province and the provision of economic benefits to all stakeholders and the province.
TKZN's objectives include: increasing foreign arrivals; increasing the share of domestic visitors; increasing tourism expenditure (spend); reducing foreign seasonality; increasing geographic spread; improving destination image and service excellence; promoting responsible and demand-driven tourism development and accessibility; fostering strategic leadership; promoting transformation; and providing an enabling environment.
KwaZulu-Natal is South Africa's leading domestic destination, highly popular among visitors from throughout Africa and increasingly on lists of travellers from all over the world. Here visitors are spoilt for choice. With all year around warm weather, the Province easily combines adventure with relaxation in a wide range of world-class activities and cultural experiences.
CONTACT INFORMATION
CEO: Mr Ndabo Khoza
CONTACT DETAILS
Physical Address: Ithala Trade Centre, 29 Canal QuayRoad, Point Water Front, Durban, 4001
Tel: +27 31 366 7508
Email:
zamk@zulu.org.za
Website:
www.zulu.org.za
---