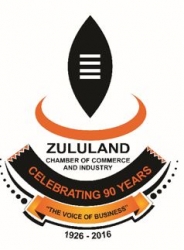 Zululand Chamber - New Appointment Announcements 2019 New ZCCI Leadership
Zululand Chamber - New Appointment Announcements 2019 New ZCCI Leadership
2019-06-11
It is with pleasure that that we share the news of Thabani Shale's appointment as the new Zululand Chamber of Commerce and Industry (ZCCI) President as of 31 May 2019. Thabani was unanimously elected as president with Hlengiwe Mvubu and Thami Sithole elected unopposed as Deputy Presidents of ZCCI.
Thabani has been a member of the ZCCI Executive Committee since 2012. He has been elected for various roles at ZCCI based on his leadership skills including Exco member representative of the ZCCI SMME Forum, Vice Chairman of ZCCI Richards Bay Division, Acting Chairman of the ZCCI Richards Bay Division. During 2014, he was elected as Deputy President of the ZCCI and is the outgoing Chief Executive Officer of the ZCCI. He leaves the CEO role at chamber to take on a position at Sappi Southern Africa Limited in Government and Stakeholder Relations. He holds a Postgraduate Diploma in Management and Marketing from University of Cape Town. As the incoming president at the chamber, Thabani is confident in leading the vision of the chamber supported by deputies.
Hlengiwe Mvubu and Thami Sithole. Hlengiwe Mvubu has held senior management positions at Foskor as Group Corporate Affairs Manager and currently as CSI and Stakeholder Manager at Mondi. Hlengiwe Holds a Bachelor of Art in Communication and Advanced Project Management. She is a Council Member of the University of Zululand,, Executive Member of Business Women Association, Director of Business Against Crime and Deputy Chairperson of Ethembeni Care Centre. She has received numerous awards including the KZN Richards Bay Business Woman of the Yearin the Corporate category.
Born in Nongoma, Thami Sithole was appointed as Port Manager at Transnet National Ports Authority (TNPA) in 2018. Before joining TNPA, Thami was with the Passenger Rail Agency of SA where he served as Senior Manager EPMO - Financial Management, Monitoring and Reporting. Thami is a BSc graduate from MEDUNSA and holds an MBA from the Midrand Graduate Institute, a Post Graduate Diploma in Business Management from Thames University, London and a Diploma in Monitoring and Evaluation of Health Programmes from the University of Pretoria.
I would like to congratulate Thabani, Hlengiwe and Thami on their new appointments. The purpose of the ZCCI is to be the voice of business in Zululand.
If you have any queries do not hesitate to contact me.
Judith Nzimande
Immediate Past President
Zululand Chamber of Commerce and Industry
Given Majola
Business Report
---