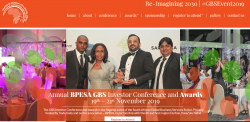 Business Process Enabling South Africa (BPESA),
21 October 2019.
Registration is open for the GBS Investor Conference and Awards, which will take place from the 19 to 21 November 2019 in Durban. Proudly hosted by Business Process Enabling South Africa (BPESA), in partnership with the Department of Trade and Industry (the dti) and host city Durban, KwaZulu-Natal, this is the flagship event of the South African Global Business Services (GBS) sector.
The theme of the GBS Investor Conference and Awards 2019 is 'Re-Imagining 2030'. As such, the event is designed to attract the interest of local and international stakeholders seeking value in their global business services investments and wishing to make a real impact by contributing to South Africa's youth unemployment crisis, economic development and social transformation discussions. The transformation of business services will provide employment and career growth opportunities for our youth.
According to figures released by Stats SA in June 2019, the business services industry currently has the biggest increase in employment numbers in the South African economy, contributing 53 000 employees to the formal sector. The sector has demonstrated an annual growth rate of 22% on average year on year and it is expected that the growth rate will continue to increase over the next five years.
The GBS Investor Conference has an excellent line up of speakers and panellists who will be participating in the two-day programme to unpack this potential. Topics such as: The Trust Economy, Digital Infrastructure: The hero to growth and job creation; Technology: Reshaping the economy for good; Poverty, Unemployment, Inequality - working together to eliminate them - The New Imperative for Leaders; Why our youth matter; The rise of the African Female; Economic and social scenarios; and jobs of the future and their impact on economy, employment and equality, will be presented among others.
The Awards are a celebration of the excellence of our youth, and our depth and breadth of capability in the sector both locally and internationally. Awards will be received by both individuals and companies, for their outstanding achievements in the sector, all the while focusing on growing the South African economy and creating an environment conducive for job creation.
Individual awards will be presented on the evening of the 19th November at a cocktail event and the company awards will be presented on 21st November at the closing banquet.
A highlight of the event will be a performance by the Ndlovu Youth Choir, who made all South Africans proud at the America's Got Talent 2019 Competition. The Ndlovu Youth Choir are already performing at sold out shows and have participated in their first international tour to the Netherlands. The choir is a prime example of our depth of talent and how our youth compete on the global stage.
Andy Searle, CEO, BPESA added, "South Africa is a world class GBS destination and is now the third largest emerging (Business Process Outsourcing (BPO) geography, competing with India and the Philippines, providing access to 16 million people who speak English in a mature GBS market that is hungry for BPO jobs. The GBS sector is open to opportunities to constantly deliver on global customer and client needs to continue to prove that we are the preferred offshore location. We call on all local and global heroes looking to "Make an Impact... Shift a Country ... and Leave a Legacy" to attend this event."
Information
For more information and to register visit
https://www.gbsevent.co.za/register-to-attend.html
or contact Traci directly by phone: +27 (0)83 657 3112 or email: traci@bpesa.org.za
For Editors
BPESA is a not-for-profit company that serves as the industry body and trade association for Global Business Services in South Africa serving the international and domestic markets.
Its purpose is to market South Africa to the world as an attractive place to offshore their business processes, thereby stimulating local job creation, particularly for unemployed youth, and coordinating industry role players to provide a sustainable supply of suitably skilled people to enable the sector to remain competitive and to grow.
BPESA promotes domestic and foreign investment into the Global Business Services Sector in South Africa and works with its partners to stimulate economic growth, new job creation and skills development.
For media enquiries
Gayle Adlam
gayle@mweb.co.za
0836530465