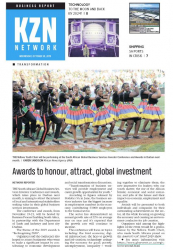 THE Ndlovu Youth Choir will be performing at the South African Global Business Services Investor Conference and Awards in Durban next month.
THE South African Global Business Services Investor Conference and Awards, which takes place in Durban next month, is aiming to attract the interest of local and international stakeholders seeking value in their global business services investments.
The conference and awards, from November 19-21, will be hosted by Business Process Enabling South Africa, in partnership with the Department of Trade and Industry and host city Durban.
The theme of the 2019 awards is "Re-Imagining 2030".
Organisers said the conference also hoped to attract businesses who want to make a significant impact by contributing to economic development and social transformation discussions.
"Transformation of business services will provide employment and career growth opportunities for youth."
According to figures released by Statistics SA in June, the business services industry has the biggest increase in employment numbers in the economy, contributing 53000 employees to the formal sector.
The sector has demonstrated an annual growth rate of 22% on average year on year and it's expected that the growth rate will continue to increase.
The conference will focus on topics including: the trust economy; digital infrastructure: the hero to growth and job creation; technology: reshaping the economy for good; poverty, unemployment, inequality - working together to eliminate them; the new imperative for leaders; why our youth matter; the rise of the African female; economic and social scenarios; and jobs of the future and their impact on economy, employment and equality.
Awards will be presented to both individuals and companies for their outstanding achievements in the sector, all the while focusing on growing the economy and creating an environment conducive for job creation.
Organisers said among the highlights of the event would be a performance by the Ndlovu Youth Choir, who made South Africans proud on the America's Got Talent 2019 show.
For more information visit
https://www.gbsevent.co.za/register-to-attend.html