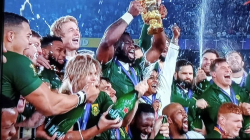 (BPESA 2019) Champions of the Global Business Services Industry
Certainly the underdogs, the Springboks delighted 57 million rugby fans with a third #RWC2019 victory after a hard-fought win over England. And while we'll savour this win for the next four years, we have a lot to celebrate in the business world too. Like how far South Africa has come in the Global Business Services industry.
Technology means that almost any business service can be supplied remotely, outsourced to specialised facilities or moved off-shore to benefit from cost-efficiencies. Increasingly, consumers expect to deal with contact centres for anything from online sales queries to banking. But the business services sector now includes a host of business processes including finance, accounting, IT and legal services.
South Africa is a major international player in this space, having maintained second-place two years in a row in the Global most favoured offshore location in the Ryan Strategic Advisory 2019 Front Office Omnibus survey where over 500 enterprises were engaged. In addition, South Africa again won the GSA "Global Destination of the Year" 2018.
The industry's flagship event, the GBS Investor Conference and Awards will take place on 20 - 21 November 2019. Hosted by BPESA, the industry body and trade association of the Global Business Services sector in South Africa, this event welcomes local and international investors looking to capitalise on the many opportunities within the GBS sector simultaneously playing an active role in economic and social transformation through job creation and upskilling of youth workers.
Host city, Durban will welcome key decision-makers across a range of industries at this conference, while the annual awards ceremony will celebrate the depth of skill and capabilities of South African achievers in this field.
Held in partnership with the Department of Trade & Industry, regional partners Trade and Investment KZN, the hosts eThekwini Municipality, and sponsors, the conference looks set for success. For more information, visit
www.gbsevent.co.za